(See ordering part number below)




Magic2028-10G
10 Gbps, Low Profile, PCI-X, CX-4 Copper/Optical,
2M concurrent sessions, TOE NIC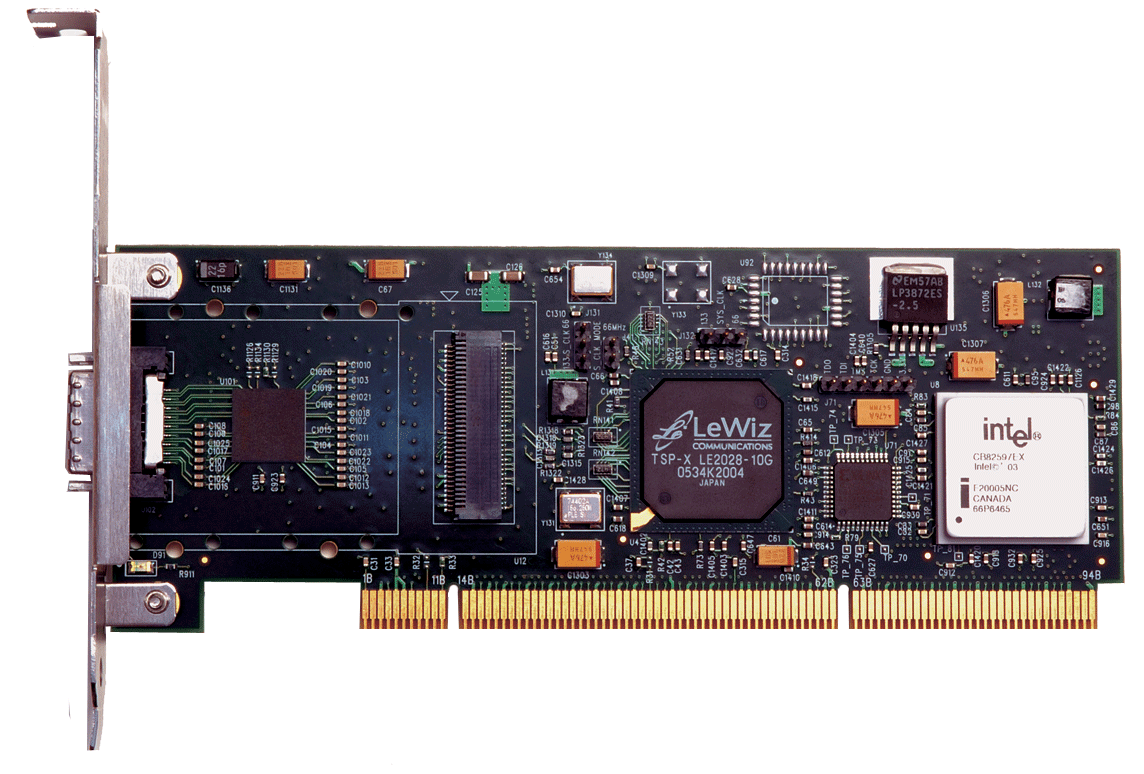 RedHat AS 4.0
SUSE LES 9.0
RedHat 9.0
Variety of 32/64 bit 2.6 & 2.4 kernels

LeWiz's MAGIC2028-10G™ is a 10 Gbps ultra high performance CX-4 Copper/Optical PCI-X NIC with a optional powerful on-board TCP/IP Offload Engine (LE2028™) chip. This dual option board is designed for high performance high usage networked systems such as servers, storage and networked appliances over copper or optical. By off-loading TCP/IP processing to hardware, the MAGIC2028-10G™ takes the host processor(s) out of the TCP/IP loop, no longer performing the major TCP/IP tasks in software. This balanced approach allows the host processor(s) to utilize most of its processing capability to run applications resulting in reduced system bottlenecks and enhanced system performance. Furthermore, the MAGIC2028-10G™ accelerates the TCP/IP processing effectively reducing network latency and overhead in network attached systems. The MAGIC2028-10G™plugs directly into the systems PCI-X slot. It has the capability of handling a load of up to 2M concurrent connections.

TCP/IP is the protocol used to communicate server to server, server to PC, server to storage, server to network appliance, and the list of applications continues to expand. Unfortunately, TCP/IP places a very heavy burden on host CPUs. With the advent of 10 Gbps ethernet, server CPUs choke while processing the TCP/IP overhead associated with transferring data. This board offloads the TCP/IP processing from the host CPUs, freeing up valuable CPU cycles for application processing while maintaining the programmability, configurability, and flexibility via the host interface. It supports fail-over protection/alternate pathing capability required in high-performance server and storage systems. The result is faster servers, an accelerated network, and superior application performance, saving cost and improving reliability for the enterprise network. The MAGIC2028-10G™ is ideal for network intensive environments such as file serving, network attached storage (NAS), high performance technical computing, high-end backup and restore, IP storage, and video serving.

Using LeWiz's advanced layer-processing architecture, the MAGIC2028-10G™ with the LE2028™ chip offers the highest performance, lowest power and most cost effective way of addressing the performance bottlenecks found in many IP network-attached equipment.
Benefits


Lowers overall network cost



- Increases throughput and load handling for systems



- Delay new purchase of hardware and software



- Better reliability, less downtime


Enhances and balances system performance



- 2M concurrent connections



- Allows processor to run applications efficicently


Enhances System security



Reduces network maintenance and service cost



Non-intrusive to system hardware and software



Easy plug-n-play installation


Features


Performs TCP/IP functions in hardware, not software, for lowest latency and overheard



Handles MACs directly without CPU intervention



Optional local memory, utilize system memory



Full TCP/IP offload



Supports fail-over protection (alternate pathing)



Supports port aggregation, bonding



On chip DMA engine for high speed data throughput



Full remote diagnostics capability



Qualified across multiple host platforms from Dell™, HP™, IBM™, SUN™, TYAN™, and others



Supports all CPU types: Opteron™, Pentium™, XEON™, PowerPC™, SPARC™, MIPS™, and others



Board size: Low profile PCI-X NIC (2.5" x 6.6")

Applications


Server (application servers, Web/DNS/e-mail/file servers, etc.)



Storage (iSCSI, SAN/NAS, etc.)



iSCSI NIC, initiator or target



Remote KVM switching



Security appliances (firewalls, load balances, etc.)



Network appliances



Compression systems



Streaming Multimedia




Product Functionality


Compatible with PCI-X 1.0b and PCI 2.2 Standards



64-bit/133/100/66MHz, 3.3V PCI-X bus interface



Compatible with IPv6 amd IPv4



External SDRAMs extend up to 2M concurrent connections



Concurrent transmit and recieve operations across all ports



Buffers optimized for fast packet & stream transfers



Full software support with device driver




TCP/IP Features Supported


Full TCP/IP offload



Non-intrusive to existing TCP/IP stack



Reassembly of incoming data



Segmentation of outgoing data



Sequence ordering - handling out of order segments



Overlap elimination - handling duplicate segments



Re-transmission, Flow control, etc.



TCP timer handling



Connection set-up and tear down



Hardware checksum processing



Window scaling, updating, and sizing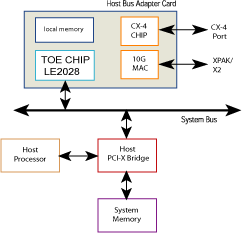 10Gbps MAGIC2028-10G™ with LE2028 TCP/IP Offload TOE NIC

Ordering Part#:
(Please specify your specific OS version when ordering)

Magic2028-10G
back to top